When my husband and I decided in 2008 to raise our house to a two-story, there was no little voice in my head telling me to 'go and bring forth a sculpture from an old house excavation'.  Really, there wasn't.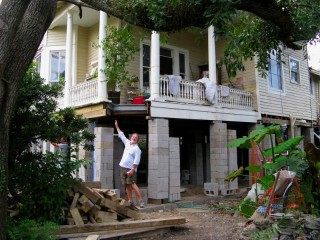 Our house was built in 1892, in an area along the Mississippi River bank first developed for the workers of the 1885 World's Industrial and Cotton Centennial Expo right next door, set on the former site of Etienne de Boré's sugar plantation, today's Audubon Park.  It was a cozy neighborhood of little Victorian cottages raised on 2-ft brick piers (square pilings of brick) with the Eastlake gingerbread at the porch columns and roof eaves, much as it is today except for the fact that many of those cottages have been raised to be the upper floor of a 2-story house.  In 1895 the levee broke, causing the neighborhood to raise their houses about 7 feet off the ground.   When my husband bought the house, he tore out the dilapidated 1940s apartments that had been hammered together in the space at ground level, but was turned down for a permit to close it back in unless he raised it another 2 feet which, 15 years later, we were now doing.  So when the crew started jacking up the house, pulling up the old 1930s slab, and digging 18×18 trenches around the periphery of the house and up the middle for a new foundation, I knew I'd be doing as much excavating as I could.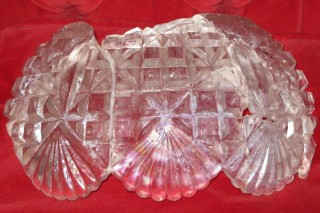 The crew was Nicaraguan, part of our new post-Katrina work force, and at first didn't realize why they would come to work in the morning to find the big mounds of soil they'd dug the day before shifted a few feet over, but eventually I told them, "Soy una archeologista" and they left me alone.  But after their shovel found a chunk of heavy ornamental cut crystal, and then another and another, they started bringing them to me and asking, "Esta viejo?"  But by the time they brought me their 9th piece, and saw that I'd hosed off the first ones and laid them side by side, and that they all fit together, forming more than half of a large, ornate bowl, they were mine.  From then on, I'd go down in the evenings and see that they had left things for me, placed neatly on top of their newest mounds.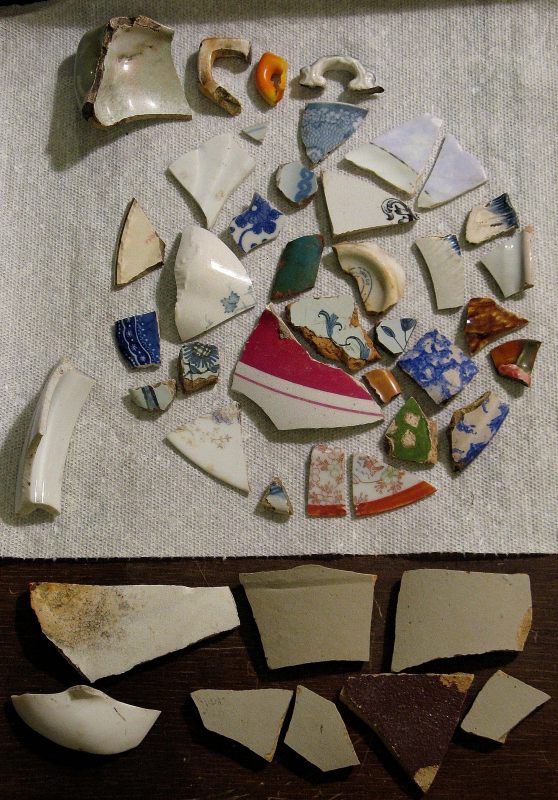 In those summer evenings, sifting through the dirt with clamp lights, extension cords and mosquito repellent, I found the usual mix of things.
. . . Glass – 9 pieces of American Brilliant cut crystal, all fitting to comprise more than half of a large bowl,  several whole bottles, a mason jar lid, drawer handles, a liquor decanter stopper and decorative feet,  as well as other bottle necks and glass shards.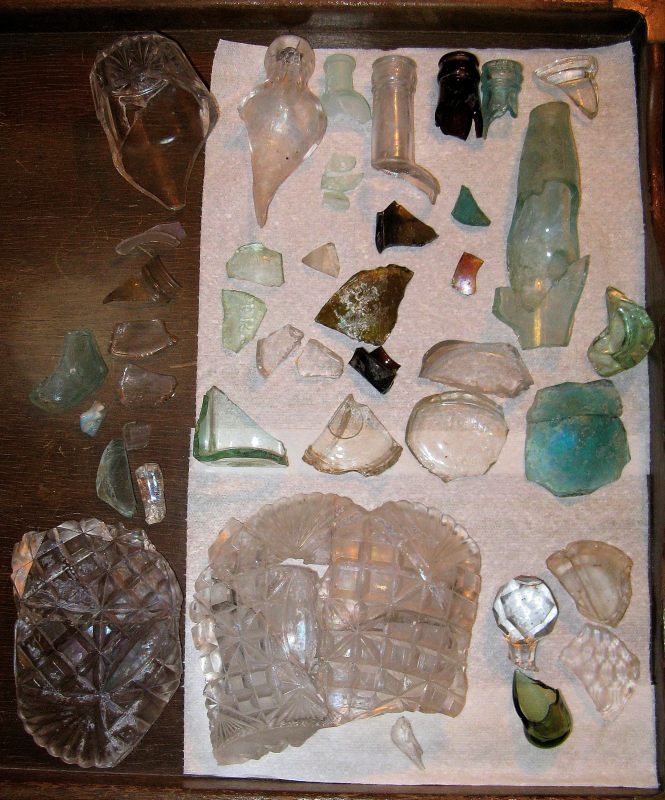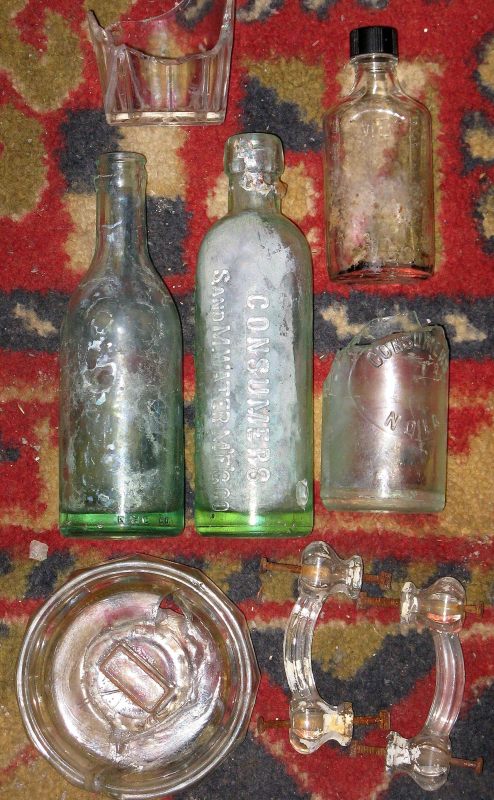 . . . Pottery shards – some delicate china, some heavy crockery, several teacup handles.
. . . Metal –  iron hardware, wrench, broken pickaxe head, heavy gauge nail & horseshoe.
. . . Bone – joint of cow or horse, some butcher-cut food bones.
.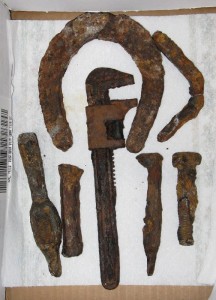 .
.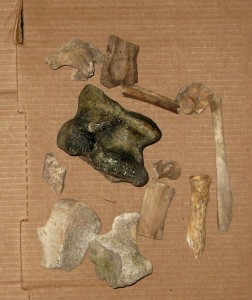 .
The joint and horseshoe were found in the back yard where a buried foundation with features dating to 3 different periods indicates an out-building, possibly a barn-turned-garage or toolshed.
.
.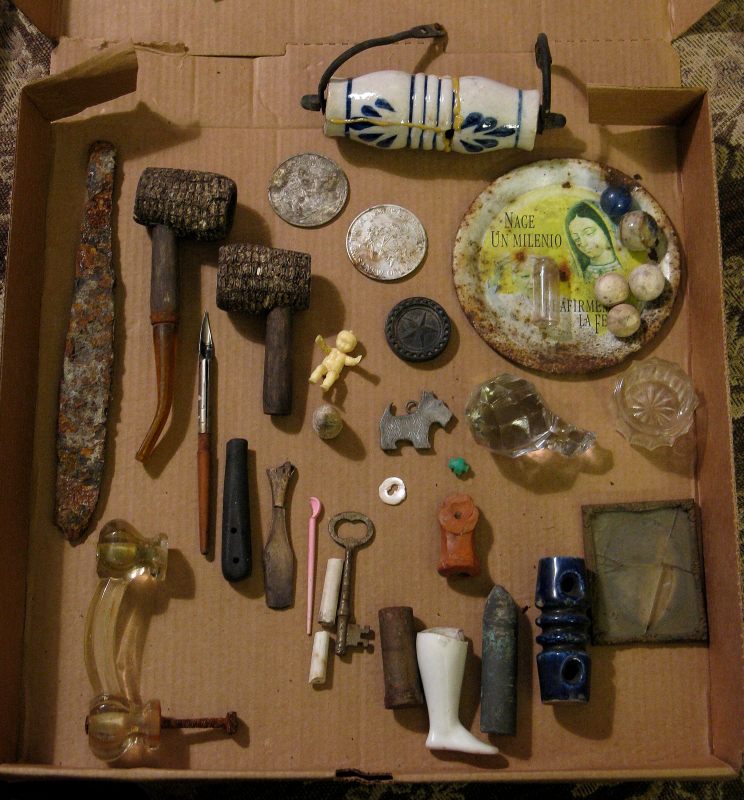 My favorite things, though, are the things that give you a glimpse of family life.  For the man of the house, several kinds of pipes; corncob, terra cotta, and the old white clay kind with the long skinny stems, usually from the 1800s.  Also a liquor decanter stopper.  For the woman of the house, a cold cream cosmetic pot, a picture frame, lipstick tube, skeleton key, shell button, a Post-WWII pink curler pin, toothbrush, ink pen, table knife,  and a Delft coal scuttle handle.  For the children, a black slate chalkboard marker, the foot of a porcelain doll, a bunch of marbles in glass, glazed ceramic and bisque, Mardi Gras doubloons and a king cake baby, a checker, and a Scotty dog pendant.  Probably brought in by a doctor, there was a glass hypodermic ampule.  A thing doesn't have to be old to be interesting – the tin ashtray is from the 1980 visit Pope John Paul made to New Orleans, when he officially designated St. Louis Cathedral as a Basilica.
Something that couldn't have  belonged to anyone in the house was a Civil War bullet (under the king cake baby in the photo) that predated any building that was on the land.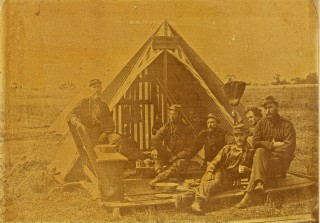 This got me thinking.  I had an 1883 map that showed a house on the property 9 years before ours, consistent with the construction period of the 1885 World's Fair, but the area had been wilderness before then, so why would a bullet from the 1860s be here?  I recently found a photo online, though, that read "5th Company, Washington Artillery in the field at Camp Lewis (now Audubon Park)…", right next to us.   Turns out that de Boré's plantation site, already cleared for his wide tracts of sugar cane, was adopted at different times by both Confederate and Union forces, including the Buffalo Soldiers, for infantry camps, cavalries and hospitals.  I could see those guys walking into the woods outside of the old plantation's boundaries, and up and down the river banks, hunting, doing shooting practice and leaving bullets behind.
.
_________________________________________________
.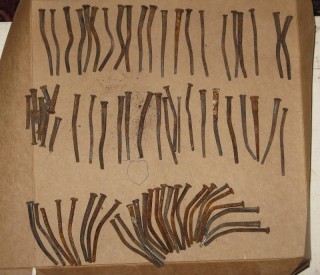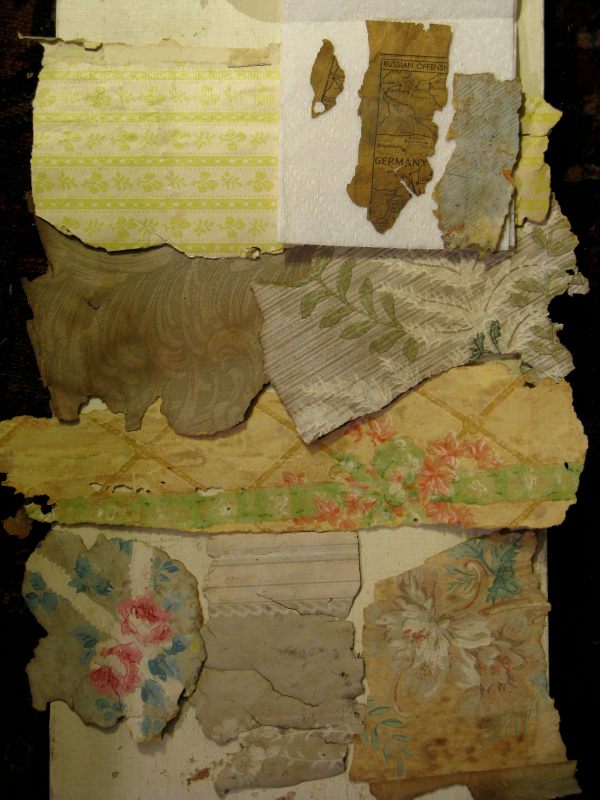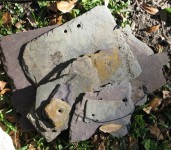 I also kept artifacts that were part of the house.  Old hand-hammered square nails, roof slate, pieces of wallpaper, a doorbell mechanism with its attached segment of joist, the lid of the old meter box, its glass window intact, and a chimney summer front.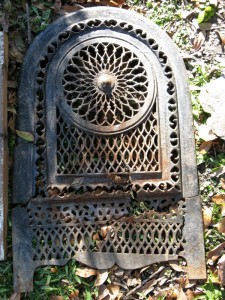 .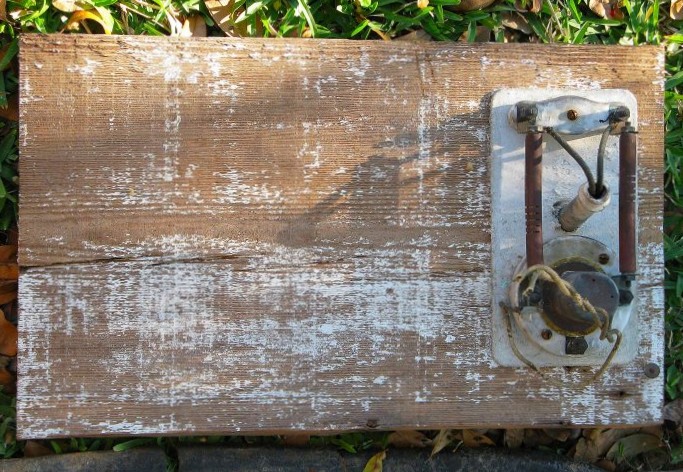 .
.
.
.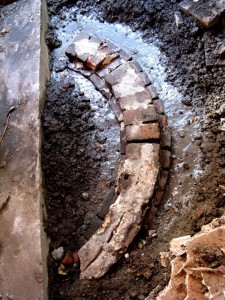 .
Behind the summerfront, stuffed into a drafty crack between the fireplace and the wall for 70 years, was a bit of newspaper, a 1940's map of the German-Russian border during WWII highlighting the Russian offensive… the next word probably being ' line'.
Something I had located a few years before was the base of the old cistern which I'd found by accident a couple years before about 8″ below the surface.  The cistern, an 8 ft wood barrel on a circular brick base for collecting rainwater off the roof, had once been behind the house near the back kitchen door, connected by a pipe to the roof gutters, but an 8′ extension to the house, my guess from the 1930s, covered ⅔ of where the cistern had been.
A few feet away from the cistern, on the exterior of the then-back wall, was where the old wooden meter box had been.  When I found it, it was still there mounted on its stuccoed pier, except its wall was no longer an exterior wall.  The same extension that covered the base of the dismantled cistern also enclosed the meter box and its pier, abandoned and untouched like a little time capsule.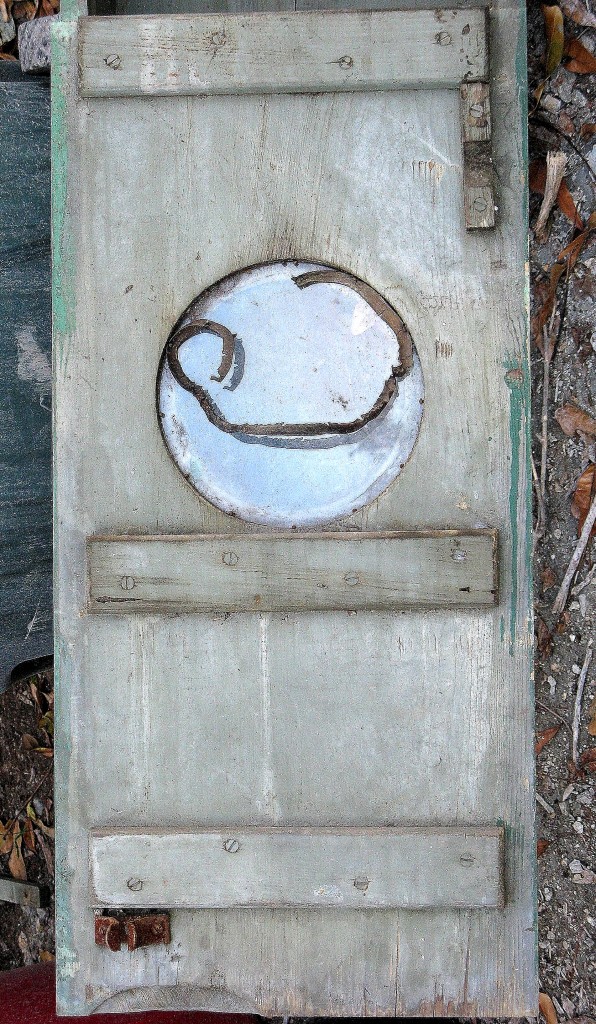 Presumably, its abandonment indicates a modernization in the electrical system, just as dismantling the cistern would indicate an upgrade in the plumbing system.
(Correction:  I went back and found a photo of the old basement (in New Orleans, basement means ground level, not underground), and the meter box was on a pier that was just plain brick; without a stucco covering.  Exposed brick would indicate that the ground level had not yet been closed in, and the stucco would not have been done until the close-in was done.   Which meant that the meter box not only predated the rear extension of the house and dismantling of the cistern, but also the ground-level close-in and its subsequent stuccoing.  It is possible that all these enlargements to the interior living space, both rear and ground level, were done at the same time. . . .  Aside: The meter box was certainly not original to the house.  Electric lighting was not introduced to New Orleans until the 1885 World's Fair right next door, and wasn't in common use until the turn of the century.)
_______________________________
.
By the end of '08, the new slab down and excavation finished, I had so much stuff that I decided I wanted to make something with it, like a wall sculpture.   I had enough large flat surfaces to use as backing to mount things on, and I laid everything out all over the floor of my 'fortress of solitude', and fiddled around with all sorts of combinations and positions for weeks.  Eventually, it was the round edge of the fireplace summer front that 'told me' to shape it into a "P" for my husband's name and give it to him for Christmas.  Pressed for time, I even went so far as to take a bunch of photos of everything, individually and in little groupings, and put them in my computer so I could keep working on it during an early December driving trip to Austin, Texas, a practice I now consider doing with every project, pressed for time or not.  It was a wild success with him. But . . . if I thought that I could file this project under the "done" heading, I was sadly mistaken.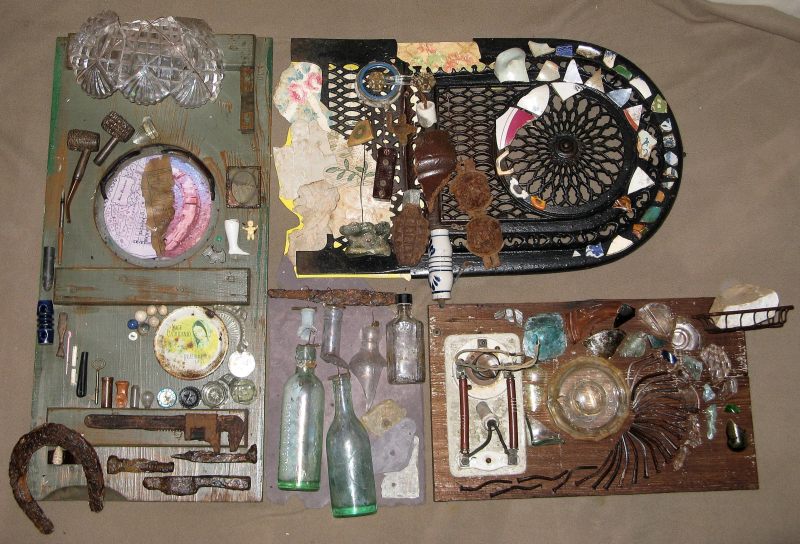 .
.
.
.
.
I kept finding things.
.
.
.
.
.
.
.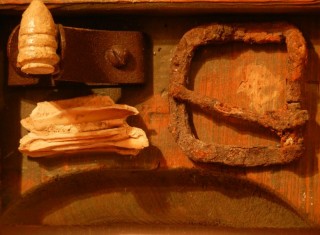 Put a potted plant in the ground?. . . found a belt buckle, or a woman's rouge compact, a piece of a pierced porcelain food container (vege crisper, steamer?), even a hand grenade that Irv got at an army-navy surplus store with the kids when they were little.
Cleared the rubble of an outbuilding foundation behind the house, where the horseshoe and joint bone came from? . . . found a horse tooth.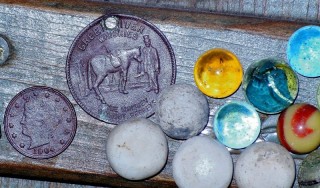 Excavated a sunken segment of old brick sidewalk from under the grass outside the fence? . . . found an old Western Union jacket button (W.U.Tel.Co.), a 1904 silver dime, and a 1930s Green River Whisky token, "the whiskey with no regrets".   That one was a bit of fun googling.  Used as part of a popular advertising campaign during a time when it was fashionable to include reference to ethnic groups, these tokens, hung around the neck of the bottle, featured a picture of a "snaggle-toothed old Black man and horse with a five-gallon demijohn of Green River Whiskey strapped to its saddle, both standing outside the Green River Inn" (quote from the Green River Whiskey website).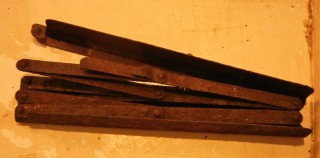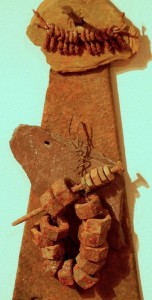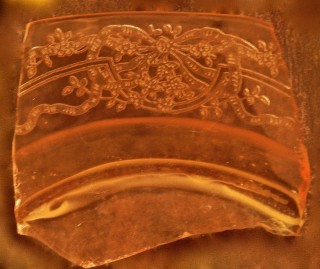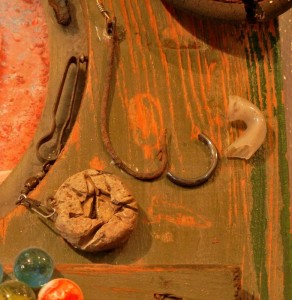 Pulled up weeds from around the old carport slab? . . . found a metal accordian-arm extender, unused hook-and-eye eyes and nut-and-bolt nuts still bound together on their corroded wires, a rubber furniture wheel, drawer pull, barn door hinge, a fishing leader with weights and hooks, and a very out-of-place piece of pink ornamental depression glass.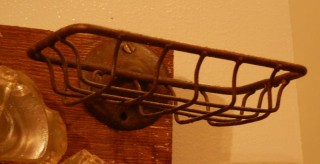 Even inside.  Tore out a wall? . . . found a wire soap dish and a chandelier crystal inside the studs.
.
Ahhh . . . but under the sheetrock, my favorite find? . . . a pre-existing beadboard wall along the midline of the house.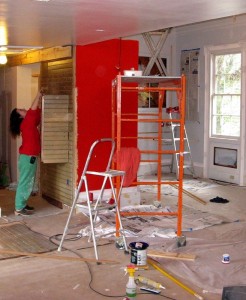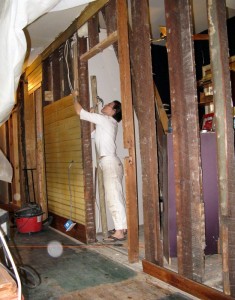 Turns out, that whole quadrant of the house had once been a long, skinny screened-in porch running down one side of the house from the middle all the way back, what we call a dog-trot porch, which explained the drop in ceiling height from 12′ down to 8′, and the downward slope in the floor.  And the beadboard had been the exterior wall.  Marvelously discolored, I put a seal coat on the boards then and there, dirt and all (tried cleaning one tiny corner and the whole patina washed away).  I numbered them on the backs from the other side before taking them off cuz I knew I was gonna reconstruct them around the dumbwater and stairwell entranceway when the time came.
From the interior room, I found the explanation for what had seemed like unexplafrom the porch side like needless breaks in the beadboard, a hidden door frame, covered on the porch side when the door was taken out with beadboard taken from the top 4 feet after the new lowered ceiling made them unnecessary.  There were two hidden door frames where two interior rooms had opened out onto the porch.  .  .  .  .  .  8***************  get photos from attic beadboard *******
____________
It was the door that connected those two interior rooms where I found my favorite find of all, though .  It came from up behind the header of the door when I was taking out the wall.    An old bug-eaten letter, still in its envelope, came fluttering down in a shower of roach turds and grit, hidden for the better part of a century, too dangerous to risk being found but too dear to throw away.  I'll let it speak for itself.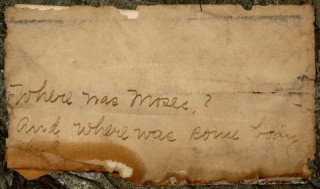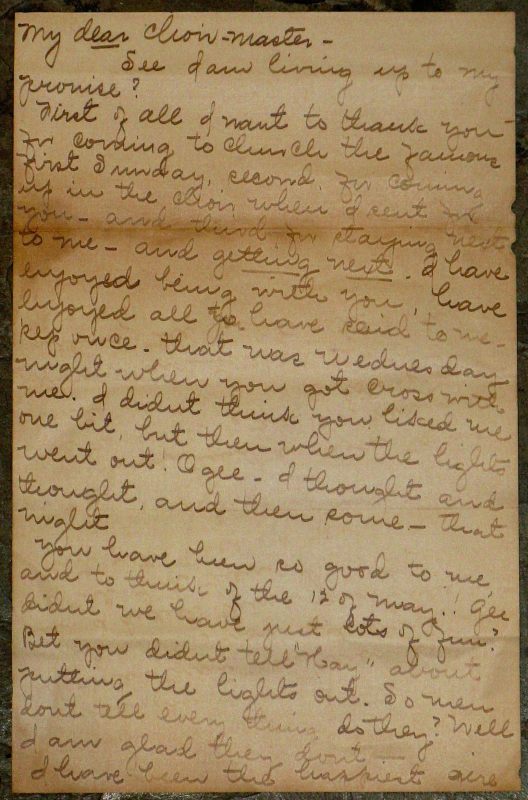 "My dear Choirmaster – See I am living up to my promise? First of all I want to thank you for coming to church the famous first Sunday, second for coming up to the choir when I sent for you – and third for staying next to me – and getting next.  I have enjoyed being with you, have enjoyed all you have said to me – 'cep once – that was Wednesday night when you got cross with me. I didn't think you liked me one bit, but then when the lights went out!  O gee – I thought and thought, and then some – that night.     You have been so good to me and to think of the 12th of May! Gee didn't we have just lots of fun? Bet you didn't tell "Kay" about putting the lights out. So men don't tell every thing, do they? Well I am glad they don't – I have been the happiest girl …"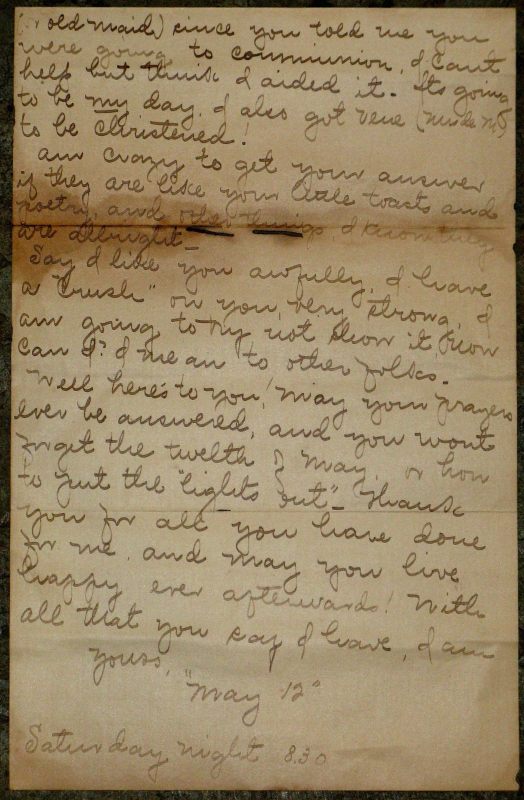 .
.
.
"… (old maid) since you told me you were going to Communion.  I can't help but think I aided it.  It's going to be MY day.  I also got Vera (Mrs. de M) to be christened.     .     Am crazy to get your answer if they are like your little toasts and poetry, and other things, I know they are allright.  Say I like you awfully.   I have a "crush" on you, very strong.  I am going to try not to show it, now can I?  I mean to other folks..
Well here's to you!  May your prayers ever be answered, and you won't forget the twelfth of May, or how to put the "lights out" – Thank you for all you have done for me, and may you live happy ever afterwards!  With all that you say I have, I am yours.      
'May 12'    .     .     .     .     Saturday night, 8:30″ 
.
_____________________________________________________
.
By 2011, I not only had found all these pieces, but a plethora of new glass and pottery shards, porcelain doll parts, pipe stem pieces, marbles, buttons, king cake babies and beads, etc.  So I took the whole sculpture down, reconfigured it to fit everything in such a way as to keep the essential "P" shape intact, and . . .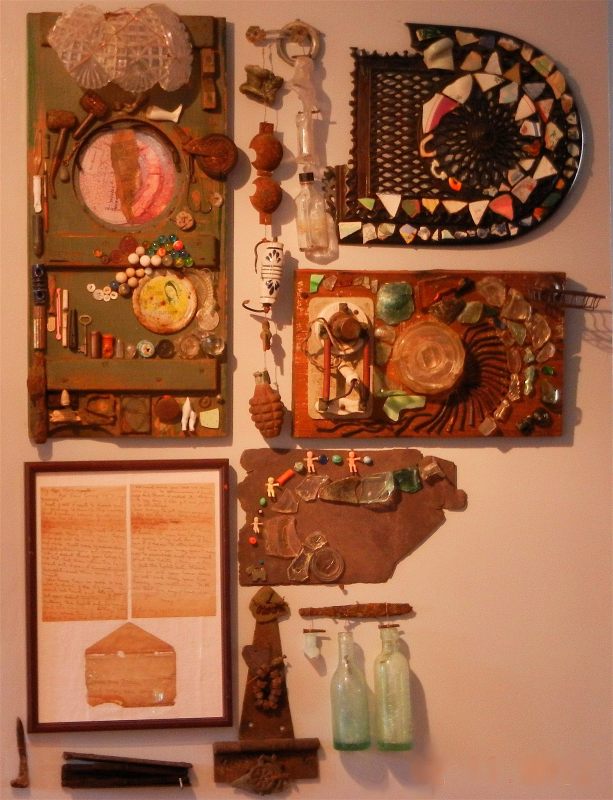 .
. . . this is what came of it.
.
.
.
How I wish I could say that this were finished. But I have a bowl that's filling up with stuff again, and I think it's about time for a third incarnation of this living sculpture that just grows and grows.
.
.
.
.  
In fact, no time like the present . . .  
.
.
.
.
.
.
.
—————— The makings of the third incarnation.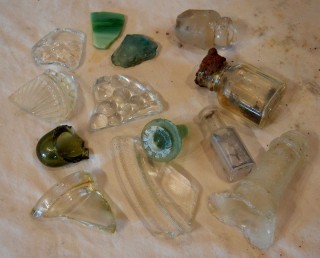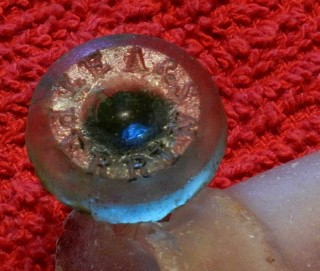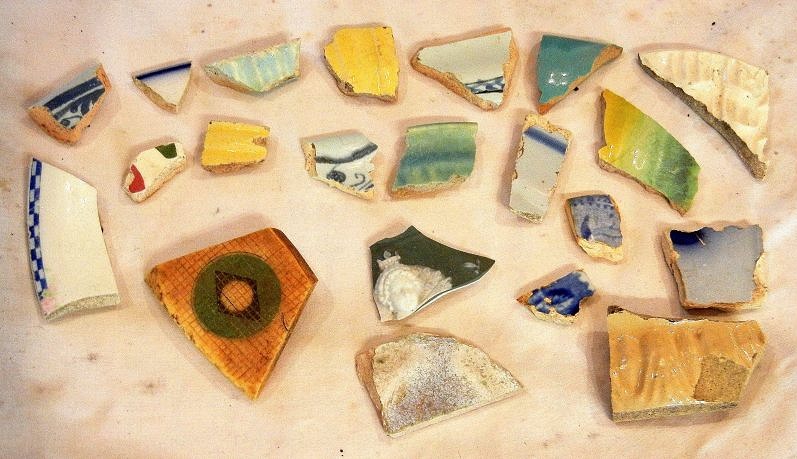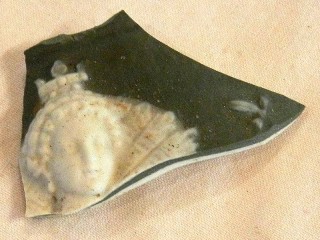 .
.
.
.
.
.
.
.
.
.
.
.
.
.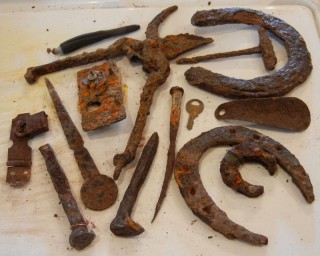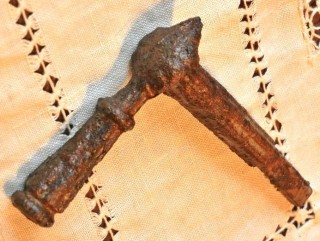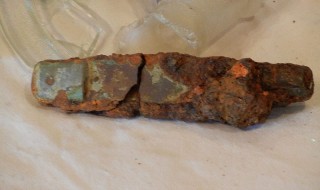 .
.
.
.
.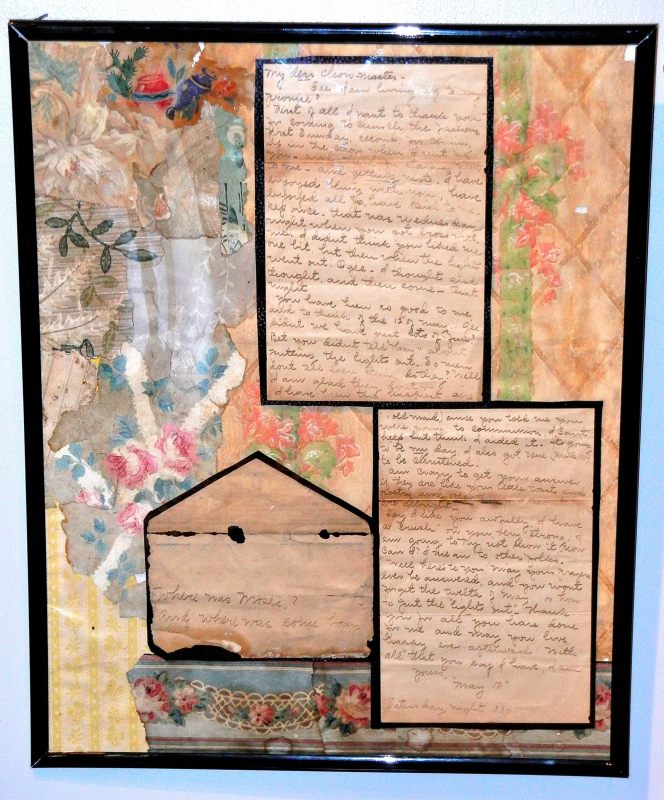 .
.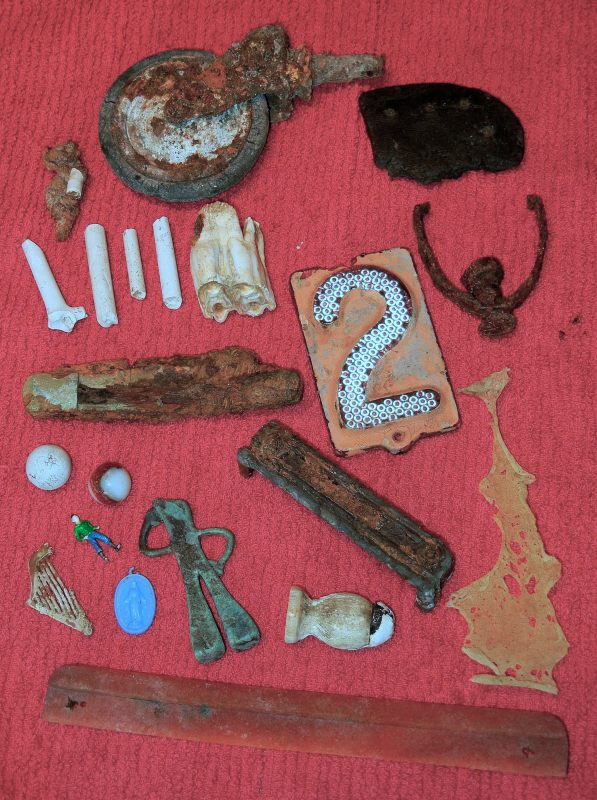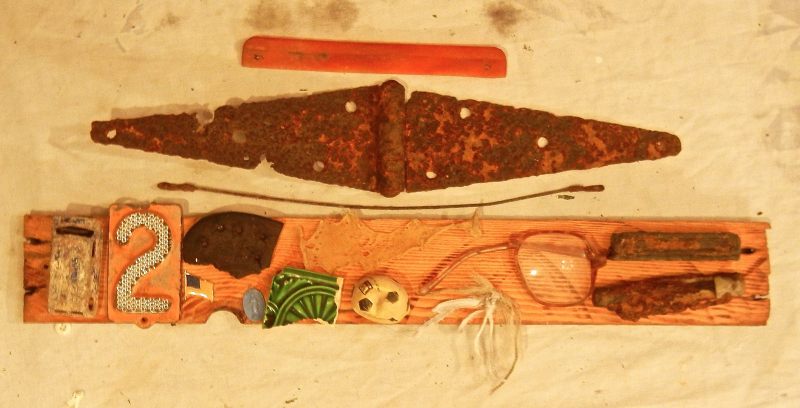 .
Domestic artifacts:  out-building hinge, toy car, address number, shoe heel, scrap of nylon stocking, ping pong ball, eyeglasses, bin pull, pink hair ribbon, switchblade knife, a bit of wooden handle still intact . ? … furniture wheel, lamp part, white clay pipe stems, tin can key tab, bicycle pedal joint, harp-shaped ornament/grating, and Gumby.
.
.
.
.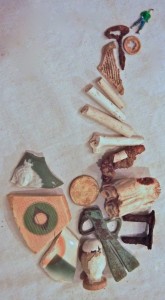 .
.
.
.
.
Amidst relative color randomness, the only color grouping that seemed to want to come together was the green and white with a few iron accents.  Shape wise, the same, with only the crescents of the horseshoes pulling a few other things into another small grouping.
So I took much of the piece down, laid it on the floor, and started measuring for the changes it would have to make to accommodate the new pieces.  I jitneyed around with endless combinations of things, looking for balance within the whole, since the pieces themselves didn't place many demands except for the green and crescent groupings.  So I thought mostly along the lines of preserving the appearance of the "P".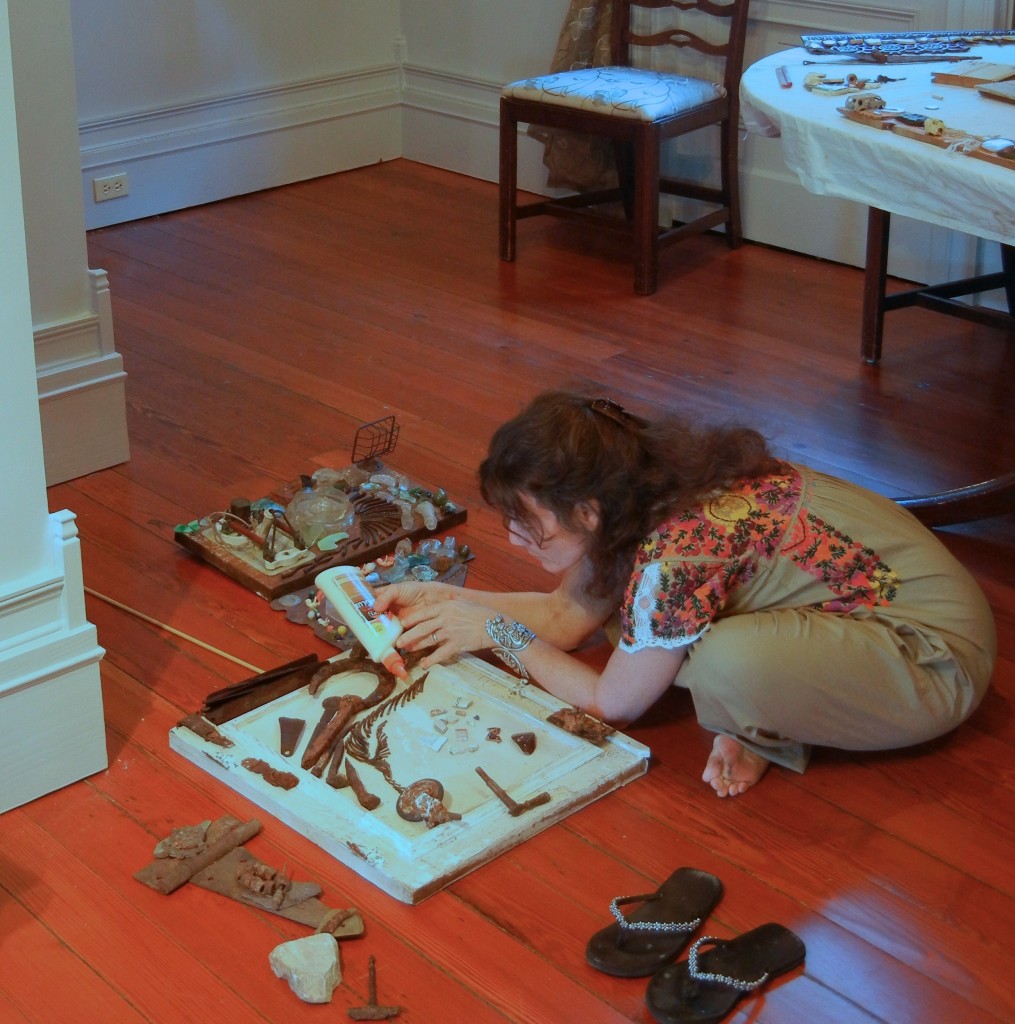 .
.
I looked in my tool room for something from the house to serve as a backing for the new stuff and found a small door that had been over a closet, and decided there should also be a bit of beadboard from the hidden wall represented, which I wouldn't be willing to use until I'd finished using what I needed for the sliding door in the hall.  So for the planning, I used a surrogate length of board.  In service of the "P" shape, I dug back through my jar of old nails for the really small ones, and shaped a curve that flowed with the existing "P"-like curve, then looked to see if I could fit everything within it.
.
I can feel the completion of this piece nearing, at last.  Hard to believe.    After 5 years, I can put this piece to rest.  Cuz all the excavating and landscaping has been done.  The odd piece or two that pop up won't require any changes.  Whew. .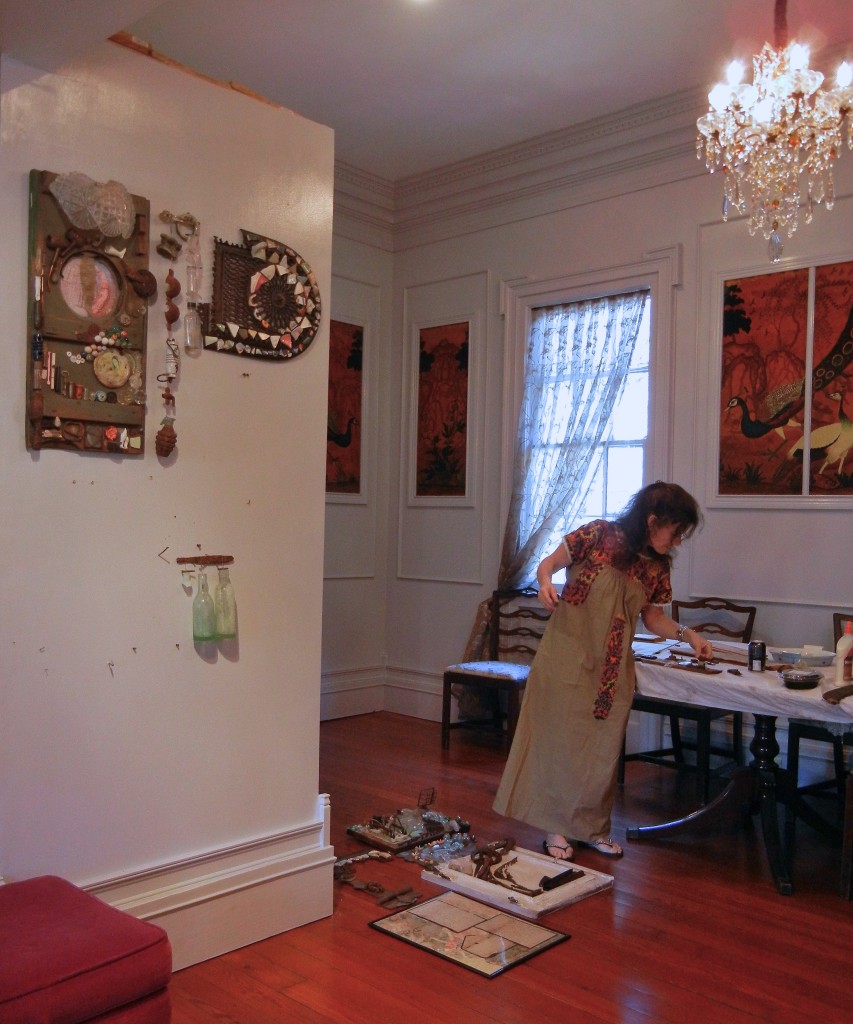 .
.
.
.
April '14 Addendum:  Oh, man, this thing really and truly doesn't want to be finished.  This thing's now outgrown its wall.  It may have to be relocated to the inside of the stairway unless I can reconfigure it somehow.  Gonna have to sit on this for a while, so I'll say goodbye for now.
And as usual, thanks for joining me for one of my little creative adventures.
.
.
.
.
© postkatrinastella-all rights reserved.
.
.